BOOTH TOUR VIDEOS FROM $1295
Wouldn't it be great if you could magnify the return on your PDC, ASM and/or JDIQ investment so it continued working for you long after the show ended? Now it can, with an Oral Health Group exclusive Booth Tour Video!
Our experienced video crew will drop by your booth at a time convenient to you.  During your 20-min session, we'll tape your best, most persuasive sales rep giving a virtual guided tour of the products in your booth.  Or maybe you'd prefer to focus on a single product.  Your call.
Whatever way you go, immediately after the show's over our large team of talented editors will take the footage and craft a dynamic 2.5 to 3.5 minute video that you'll be able to leverage yourself.  To ensure your video receives maximum exposure to the people that count – your customers – we'll upload it to our website and social media properties, as well as feature it in a post-show e-newsletter.
MORE THAN JUST A TALKING HEAD
CUSTOM PACKAGING UNIQUE TO YOUR BRAND
Not satisfied with the standard talking-head interview-style approach you see used for most trade show videos, we take the time to reinforce your sales rep's presentation by incorporating additional product images, product videos, as well as animations and other relevant visuals. We will also be sure to incorporate your company colors into the packaging design, and finish it off with your logo and a custom call-to-action message.
MULTIPLE WAYS TO LEVERAGE YOUR VIDEO INVESTMENT
You'll have a video you'll be able to leverage in a number of different ways, including:
Your Company Website
In a Post-Show E-mail Campaign
On Your Social Media Channels
But our job isn't done when your video's done.  We'll also make sure your video is seen by the people that matter – your customers!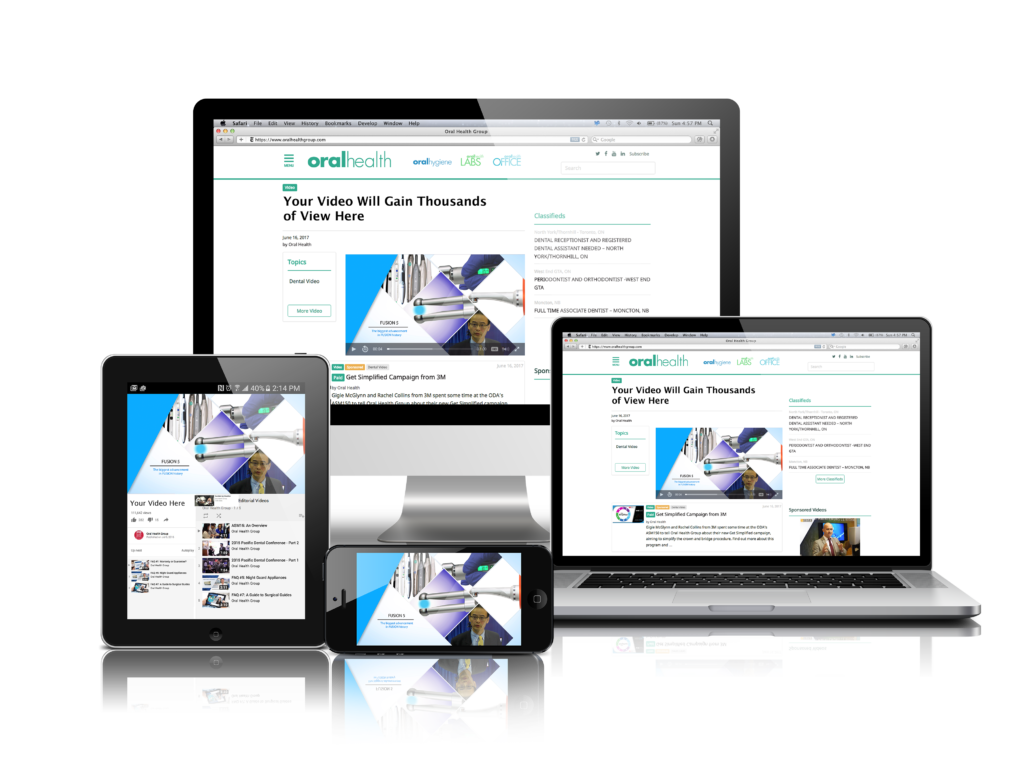 Your Booth Tour Video package also includes:
Placement in the Oral Health Video Gallery
Inclusion in a post-show e-newsletter we send to thousands of qualified dental professionals
Posting to all Oral Health social media properties
TIME SLOTS ARE LIMITED | RESERVE YOURS TODAY