BOOTH TOUR VIDEOS FROM $1,750
Would you like to exponentially magnify the results from the effort you're putting into ExpoCam?  Now you can, with a video shot in your booth at a day and time that's convenient for you!
Our experienced crew can tape your most eloquent and persuasive sales representative giving viewers a virtual guided tour of your booth, introducing a new product or giving the viewers a product demonstration.
As soon as the show's over, our team of creative editors will get to work crafting you a dynamic 3-minute video you'll be able to leverage long after you've packed up your booth.
$1750 for one
$2500 to $3250 for two
THESE AREN'T YOUR AVERAGE TRADE SHOW VIDEOS
CUSTOM BRANDING & SUPPORT VISUALS
Not satisfied with the interview-heavy approach you see in traditional trade show videos, we take the time to reinforce your sales rep's presentation by incorporating your existing product images, videos, animations and/or any of your other relevant product visuals.
We'll also incorporate your logo and company colors into the video's packaging and finish it off with a custom call-to-action message.
PREMIUM QUALITY PRODUCTION VALUES
You'll have an engaging, dynamic video you can leverage multiple ways:
Company Website
E-mail Campaign
Social Media
But our job isn't done when we hand you your video.  We'll also ensure your video is seen by the people that matter – your customers!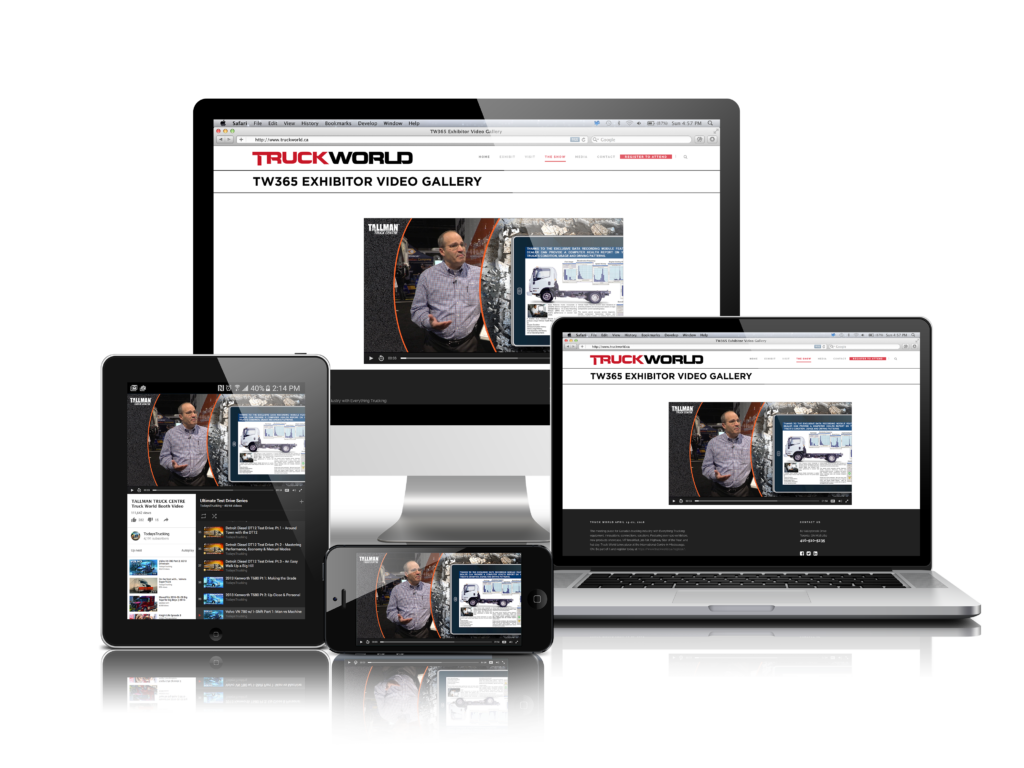 Why ExpoCam 365?
Our ExpoCam365 program allows you to continue leveraging your ExpoCam investment beyond 3 days every other April.  We do this by continuing to engage industry buyers between shows.  One way we're doing that is by adding an ExpoCam Exhibitor Gallery to house exhibitor profiles, contact information and sales collateral, including downloadable product brochures and video.
Includes Promotion Valued at $1,500
Placement on the ExpoCam365 exhibitor video gallery
Placement on Transport Routier, Today's Trucking and Truck News video libraries
Inclusion in various post-show industry e-newsletters
Posting to all ExpoCam social media properties
DON'T JUST TAKE OUR WORD FOR IT
Dan Robinson and his team from Newcom Media were fantastic to work with, researching our products and organization before shooting even began. This brought to the videos an external perspective and fresh ideas, creating a final product both professional and unique. We couldn't be happier with Dan and his team for their creativity, their flexibility in working within brand guidelines, and for delivering an excellent final product.
"Anybody can create a YouTube video."
With an iPhone and easy-to-use editing software, this statement is technically correct. However, working with Dan and his team at Newcom Media convinced me of the benefits a professional digital marketing organization can provide. If you want a unique, professional video, call Newcom.
TIME SLOTS ARE LIMITED SO RESERVE YOURS TODAY