TOP-QUALITY MARKETING VIDEOS CONVENIENTLY TAPED IN YOUR BOOTH FROM $1750
---
Wouldn't it be great if you could magnify the return on your CCTS effort so it continued working for you the 363 days between shows?  Now you can, with a video shot in your booth at The Canadian Coffee & Tea Show!
Our experienced video crew will come to your booth at a time that's convenient to you.  During your 30-min session, we can capture on tape your best, most persuasive sales representative giving viewers a virtual guided tour of the products in your booth.  Or maybe you'd prefer to focus on a new product or product line that you're launching at the show.
Immediately after the show's over, our team of talented editors will get to work crafting your footage into a dynamic 2.5 to 3.5 minute video that you'll be able to continue leveraging long after you've packed up your booth.
WATCH TO LEARN MORE ABOUT THIS OFFER
CHECK OUT SOME OF THESE EXAMPLES
While the examples below aren't plumbing and HVAC related, we do feel they're a good representation of what your video[s] would look like. 
YOUR BRANDING. YOUR COLOURS. YOUR VIDEO
PACKAGING, PACKAGING, PACKAGING
Your CCTS video will not be your typical cookie-cutter talking-head video with the bad audio and lighting you find in most trade show videos.  We've developed a unique two-step approach to packaging that starts by layering in product images, videos, animations and other relevant visuals from your marketing library to reinforce the key features and benefits your presentation.
And, to ensure your video has a unique look, we incorporate your company colors into the video's packaging elements and close the video with a custom call-to-action message as specified by you.
YOUR PERFECT POST-SHOW MARKETING TOOL
Your video will be the perfect way for you to contact those customers and prospective customers unable to attend the show, as well as give you an excuse to reach out to those that did.
3 Steps to Maximize Your Post-Show Exposure
Company Website
Post-Show E-mail Campaign
Social Media Channels
But our job isn't done when the shows over and we deliver your video.
CCTS365 means we keep helping connect you with your customers in the days between shows.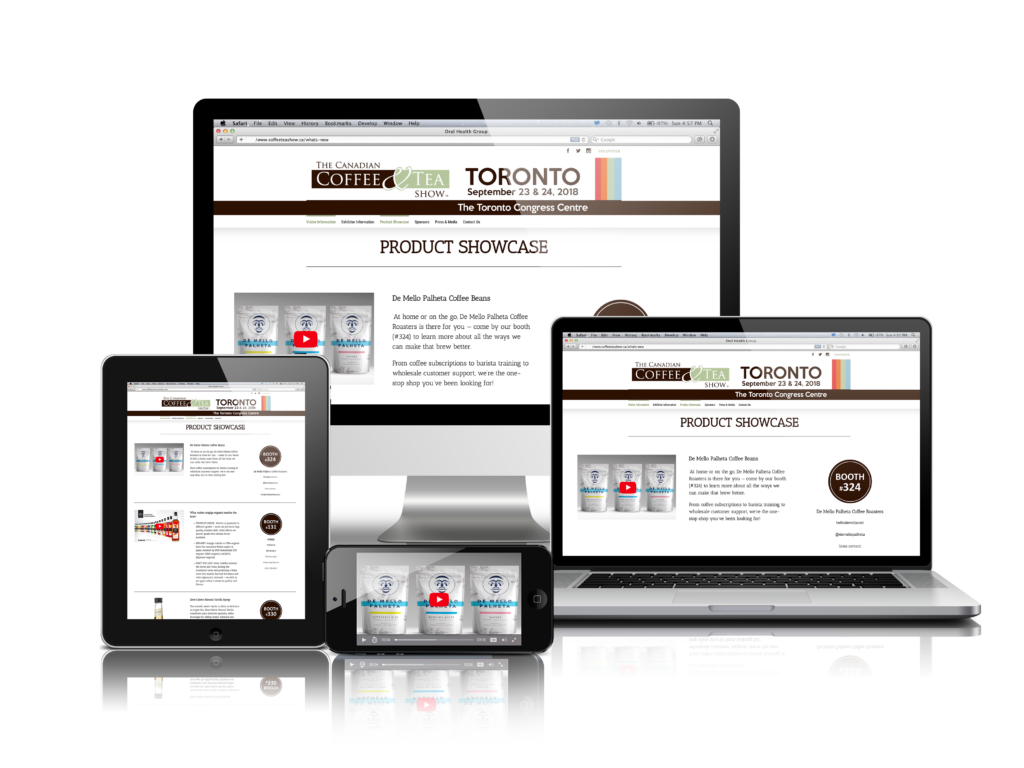 Your CCTS Video package also includes:
Placement in the Product Showcase section of coffeeteashow.ca
Inclusion in a post-show CCTS e-newsletter going out to database of qualified industry buyers
Placement in promotion material leading up to CCTS 2019
Posting to all CCTS social media properties

Facebook
Twitter
Instagram
YouTube
DON'T JUST TAKE OUR WORD FOR IT
The video crew that came to our booth was extremely professional, easy to work with and asked knowledgable questions. What I appreciated about the finished video was how well they incorporated the product shots and video footage I gave them. So I'd say the booth video is very good value for the price and I recommend it to any exhibitor. In fact, I've already reseved our video for next year's show.
John Dennehy, VP Marketing and Communications, Eberspaecher Climate Control Systems NA
TIME SLOTS ARE LIMITED SO RESERVE YOURS TODAY
CCTS 2018 has successfully wrapped up for another year! Check back next year to book your CCTS 2019 video.